How to improve the SEO of your teacher profile
The simple answer is: Search Engine Optimisation.
To elaborate, it is a rather complex part of getting your site found on search engines such as Google, Bing, etc.
Searching engine bots crawl each website and each page on the Internet. Those bots look at all the data you provide (meta data, page content, incoming and outgoing links) and allocate a score. The score then defines how relevant your page is when someone, for example, types in 'clarinet teacher near me' in a search engine. That score decides if you are on the first page or the 50th page in the search results. And this is where the whole game of SEO ranking begins.
Your website ranking depends on a lot of variables such as: 
the quality and quantity of organic visitors, 

information relevance, 

incoming and outgoing links and the quality, 

ranking of the pages you link to and from. 
To win the SEO game you need to work continuously on increasing your ranking until you finally make it to the top — onto the first few pages of a search engine.
Oh, and did I mention that you must do that for all relevant search words (aka keywords)?
There is only one way to cheat the system and get high ranking fast , and that is money and spendings on advertising.
This complex battle is a large part of the reason why I came up with the idea of building Artis Futura. A platform that unifies as many artists as possible to collectively improve the SEO ranking to the benefit of everyone.
This is also where a large part of your subscription fee will go to:
Research and writing of relevant and compelling blog articles

SEO optimisation of all content on the platform

Creating quality backlinks through networking

Paid advertising
So together we can grow the visibility of Artis Futura and individually you can grow the visibility of your profile. There are a few things you can do to make your profile stand out both within the platform and for the search engines.
The steps you can take to increase your profile's SEO ranking can be divided up into three steps.
Technical SEO (done by Artis Futura for you)

On page SEO and Metadata

Off page SEO
Knowing full well that the success of everyone on Artis Futura will rely heavily on SEO, we have tried to make everything as simple as possible for you. So here is how you set up your profile to contribute to our collective and your own personal success: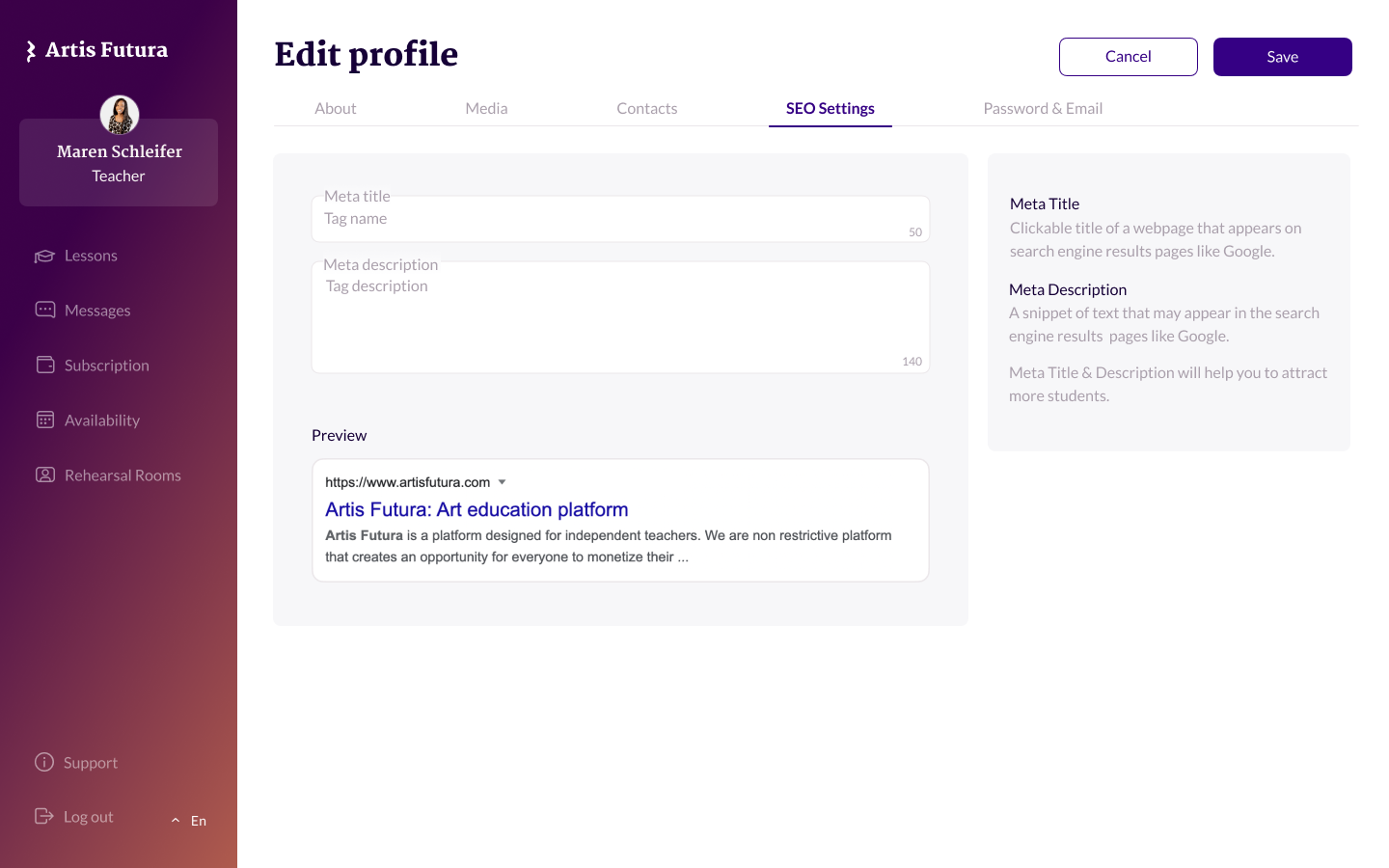 Under the tab 'SEO settings' you can customise your metadata
Fill in your meta title:
The meta title is what defines the title of each page of a website. It's the first thing potential site visitors see. It is also what search engines use when they are deciding how to index, or categorize, a site. In a sense, it's a balancing act as it serves as both a "hook" and a summary of what the page is about. 
So when you create your meta title, don't just use generic terms such as 'music lessons'. Make it more unique to you. Include your name, instrument, and if you teach in person add your city. A meta title should be around 50-60 characters.
Meta description:
The meta description is a summary of your profile. It expands on the information given in your title so it has to be relevant to it. If your meta title and meta description have information that has little to do with the actual text of your profile, it will result in a poor SEO score for your profile.
The recommended length for a meta description is 150-160 characters. Google cuts off everything above that. 
You can use this free tool to check how your profile is going to look like to others.

It's important to use keywords in your text.  If you are a clarinet teacher, mention relevant words such as 'clarinet lessons', 'clarinet teacher', etc in your profile text as well. Make a mention of your degrees and qualification, the methods you enjoy working with. In short, include words that will mean something relevant to a bot that decides if your page has relevance or not.  And keep in mind, even a smart bot is just a bot…
When we discussed writing your Biography or CV I mentioned the importance of <h2> titles. The headers in your About section are your <h2> titles. These titles will help bots to better understand the content on your page and see the value. Therefore it is important to use your keywords in those headers to improve a search engine's understanding of your profile text.
You also have your social media links. They too will count towards your outgoing links and these are high value links to high ranking websites. The same goes for your website, and this has the added advantage for your website's incoming links rate will automatically increase too. 
You can also use your profile as a linktree alternative. If you have a professional profile it is an obvious choice to make, but even with the free profiles you have one core point that can link to your entire online presence. But please, keep the links relevant to your teaching profile.
Finally, you have your video and audio links that will again benefit both your profile on Artis Futura and your profiles on the sites you link to.
Off-page SEO refers to SEO tactics applied outside of a website to improve its rankings. Basically the more relevant domains have a link to your profile the better. This way search engines understand that your page has value since more and more websites mention it. The amount of relevant backlinks is one of the key Google ranking factors.
You can link to your teacher profile from all your social media, for more new students to contact you. YouTube has this amazing feature that you can add text in bulk to all your videos. All you have to do is select all relevant videos on your YouTube channel, add a line promoting your lessons, and copy in the link to your profile.
Another effective method is linking to your profile from relevant blog posts and your personal website. You can add a link to your profile on forums, together with relevant comments.
If you are signed up as an affiliate, you can even make those links a source of passive income for yourself, on top of the obvious benefits for your teacher profile.
The most important rule about outgoing and incoming links is this:  Don't Spam! I cannot repeat this enough. If the majority of the links going to your profile come from irrelevant sources, search engines will notice and your ranking will plummet. Be proactive but DO NOT SPAM!