 A fair trade platform for the arts
A fair trade platform for music teachers

Artis Futura is a platform designed for private music teachers. We are non-restrictive platform that creates an opportunity for everyone to monetize their teaching studio both through Artis Futura and away from this platform.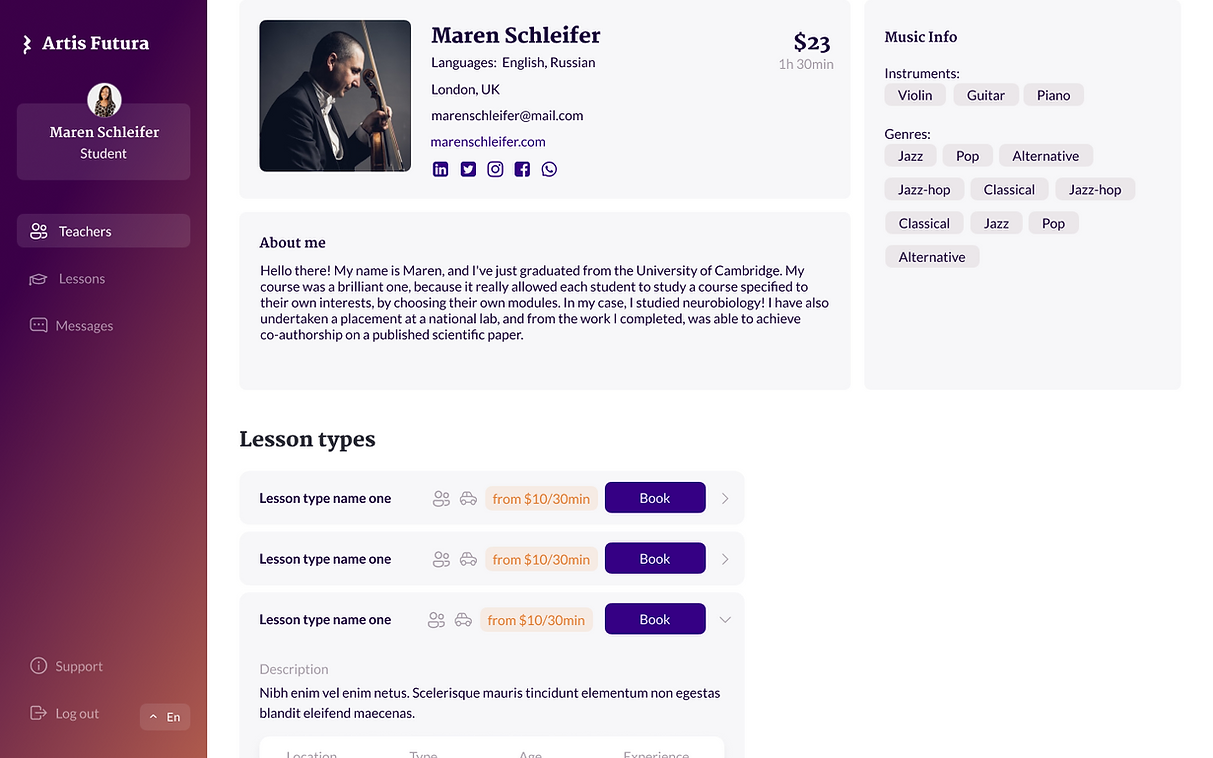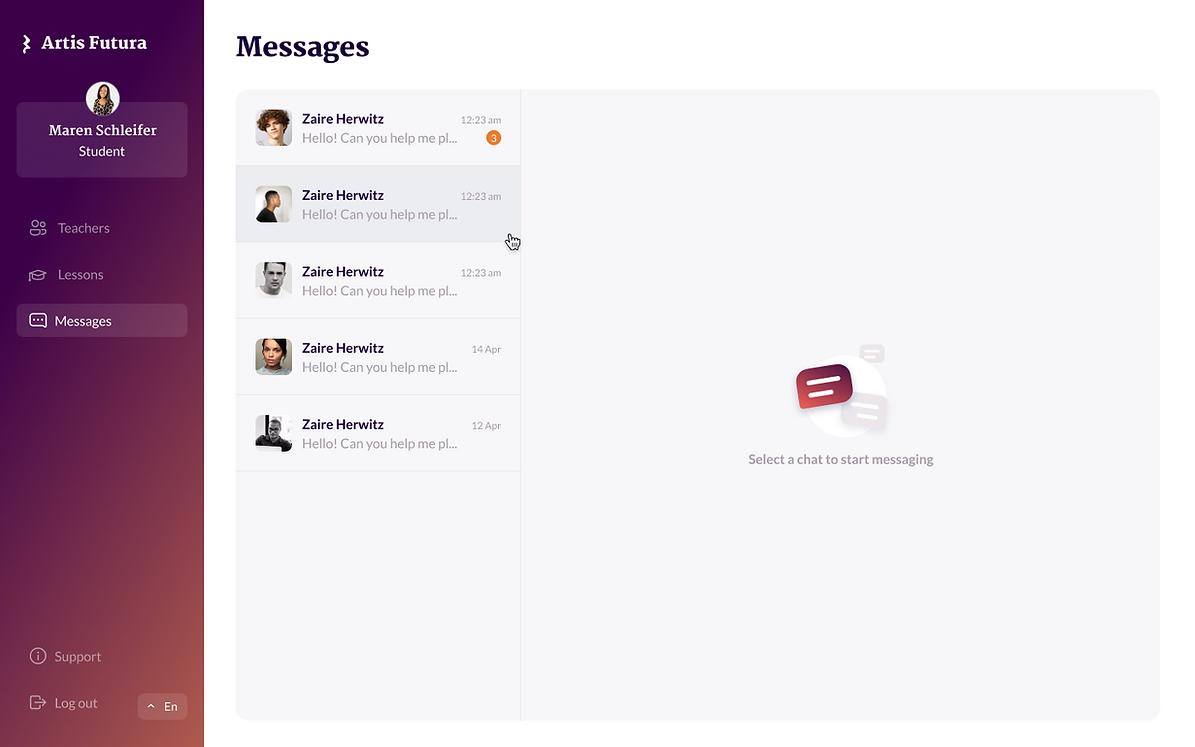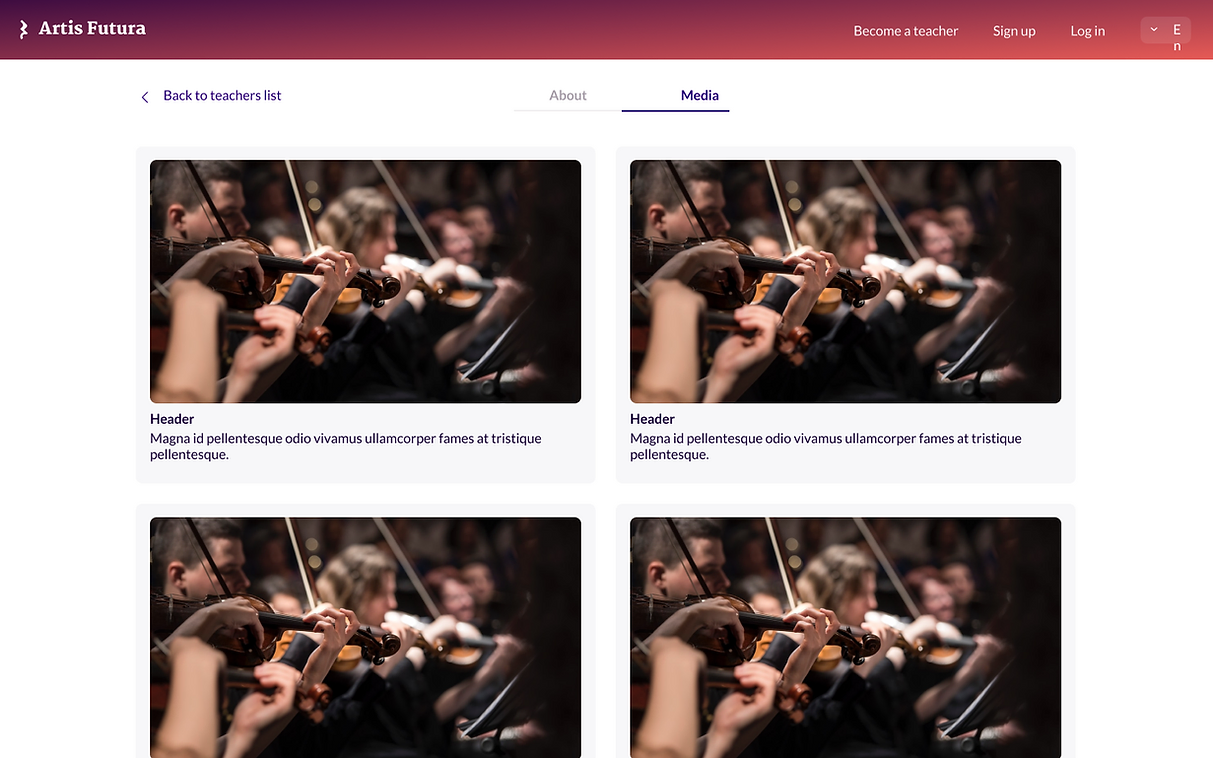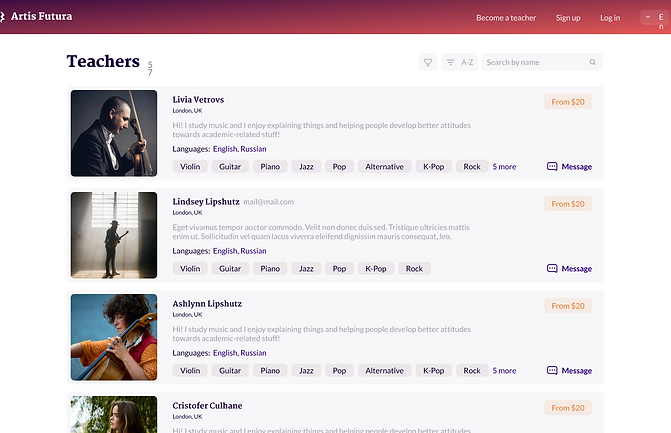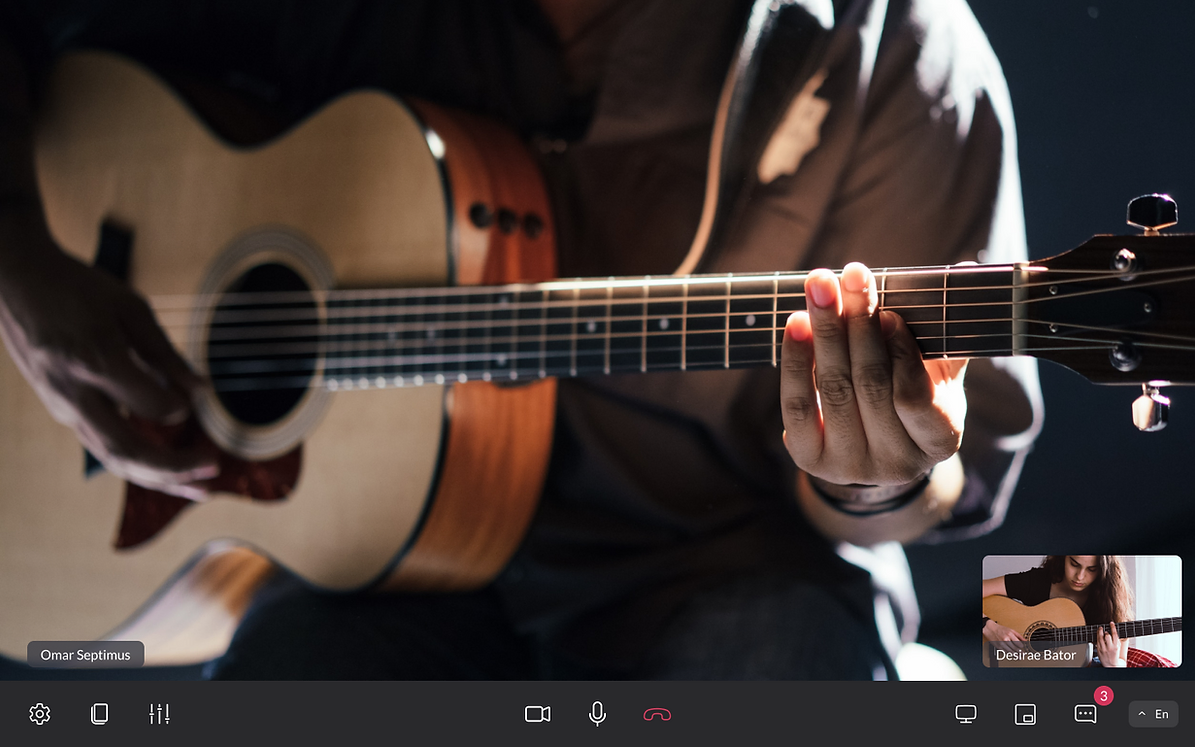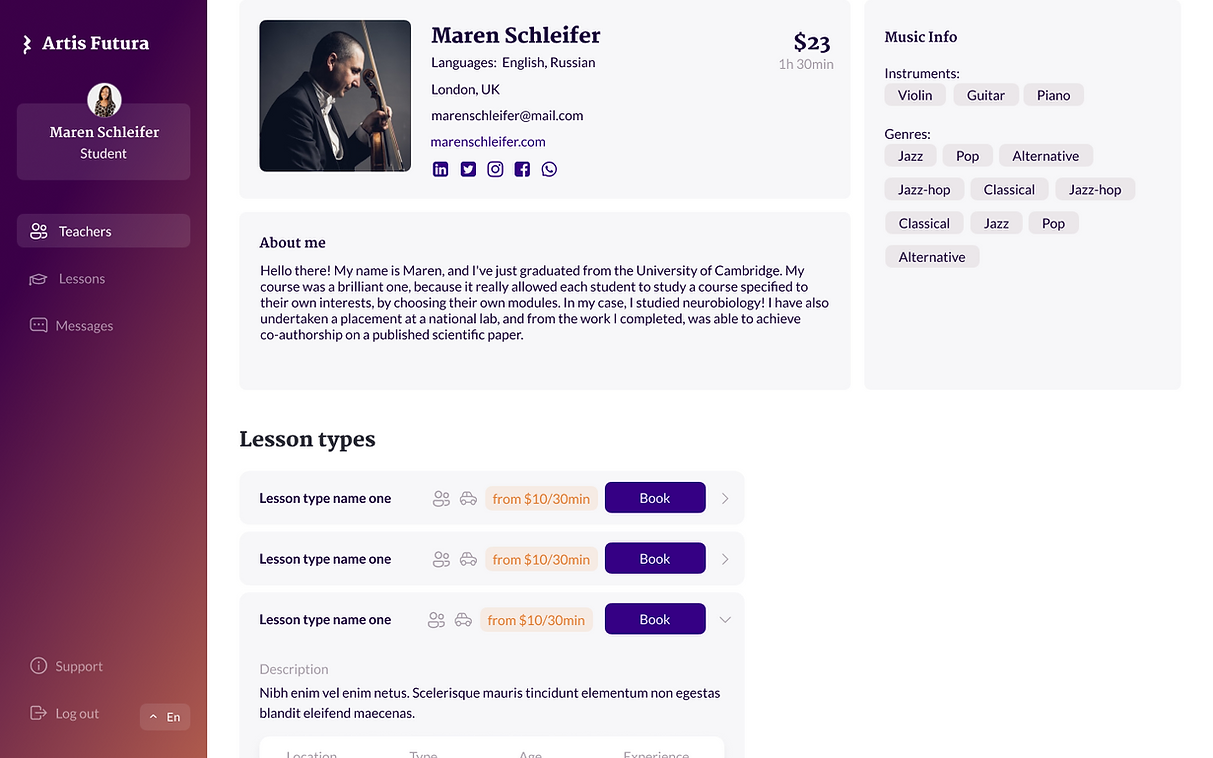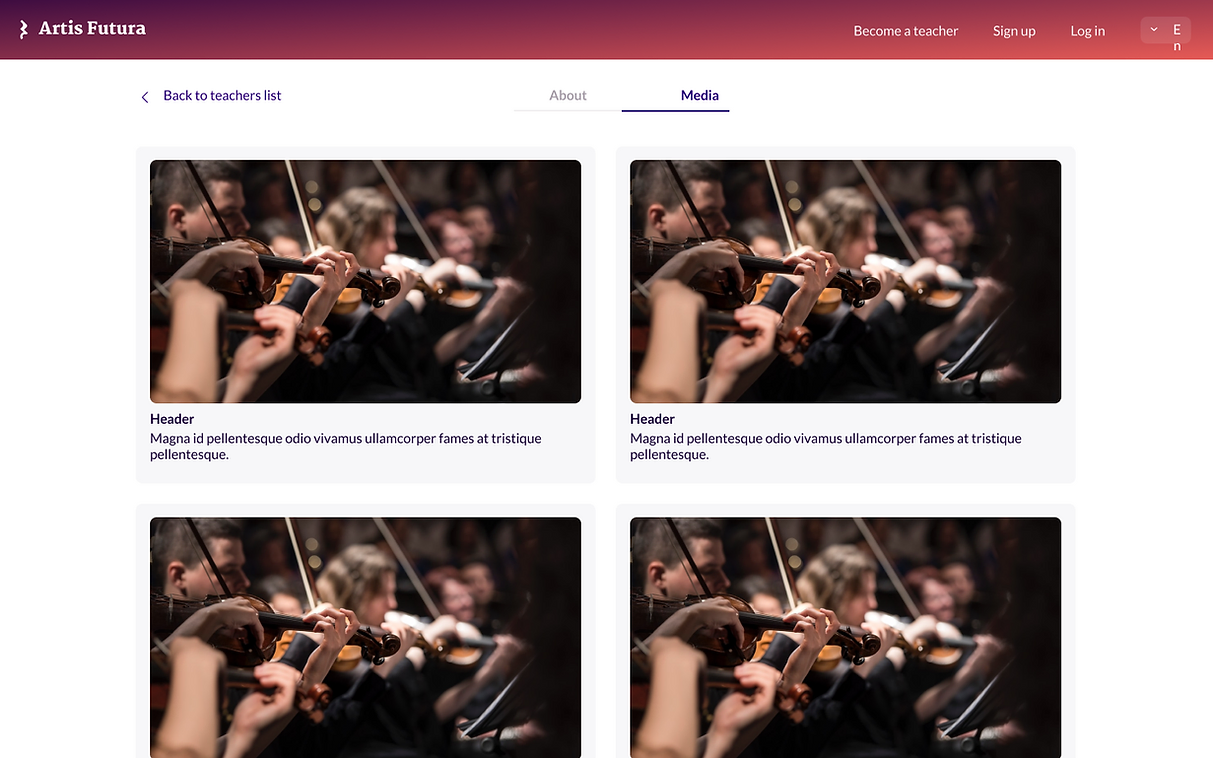 Your teacher profile is your first point of contact with potential new students. The about section will allow you to share your qualifications, experience, influences, teaching styles etc.
Media links for video and audio are also available to help show off your talents.

Learn how to build a teacher profile here.
Create lessons and specify your availability
You can fine tune your lessons according to the following specifications:
Instrument, language, location (in person at the student's or your home or online), target age, target ability, individual or group lessons, currency and variable prices depending on duration.
Specify your availability and attach the lessons you have created as it suits you.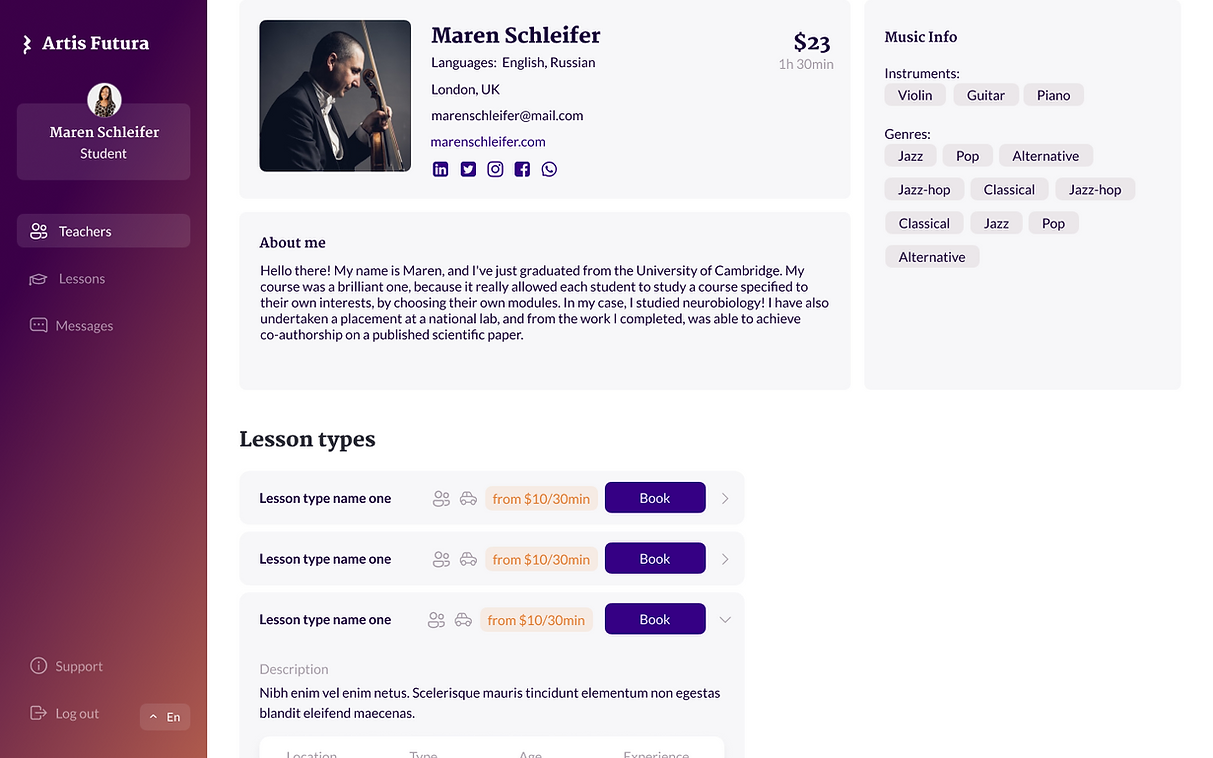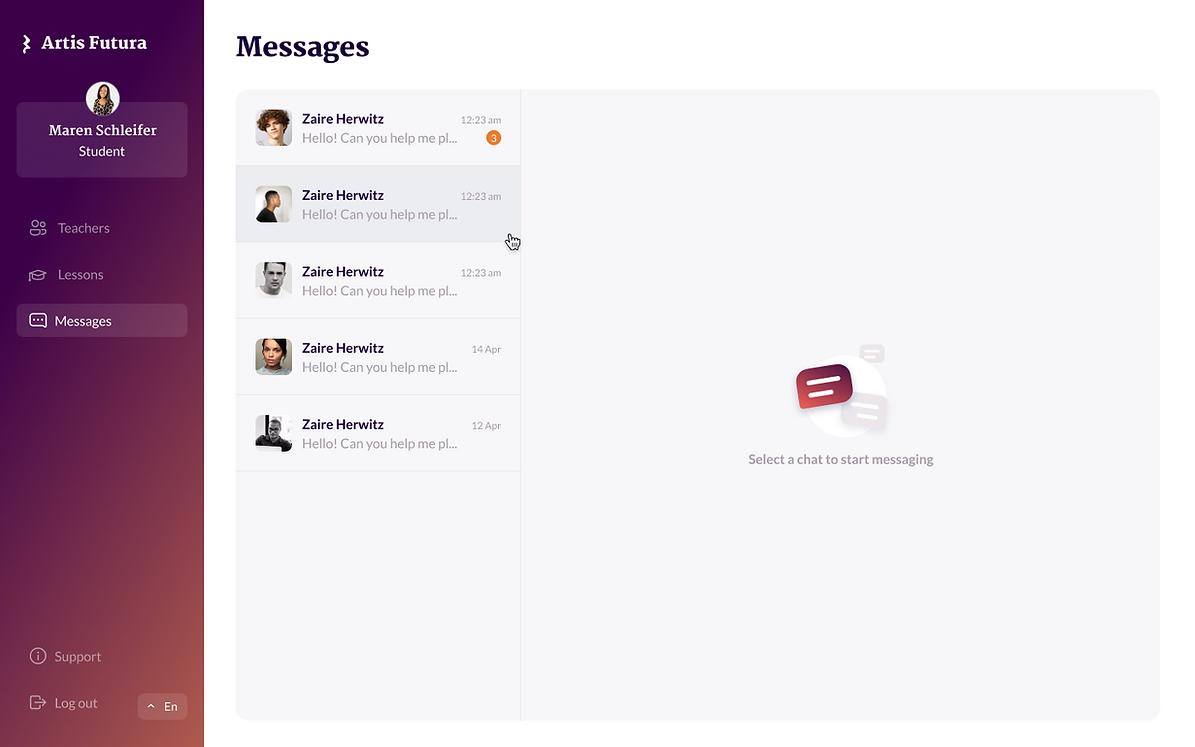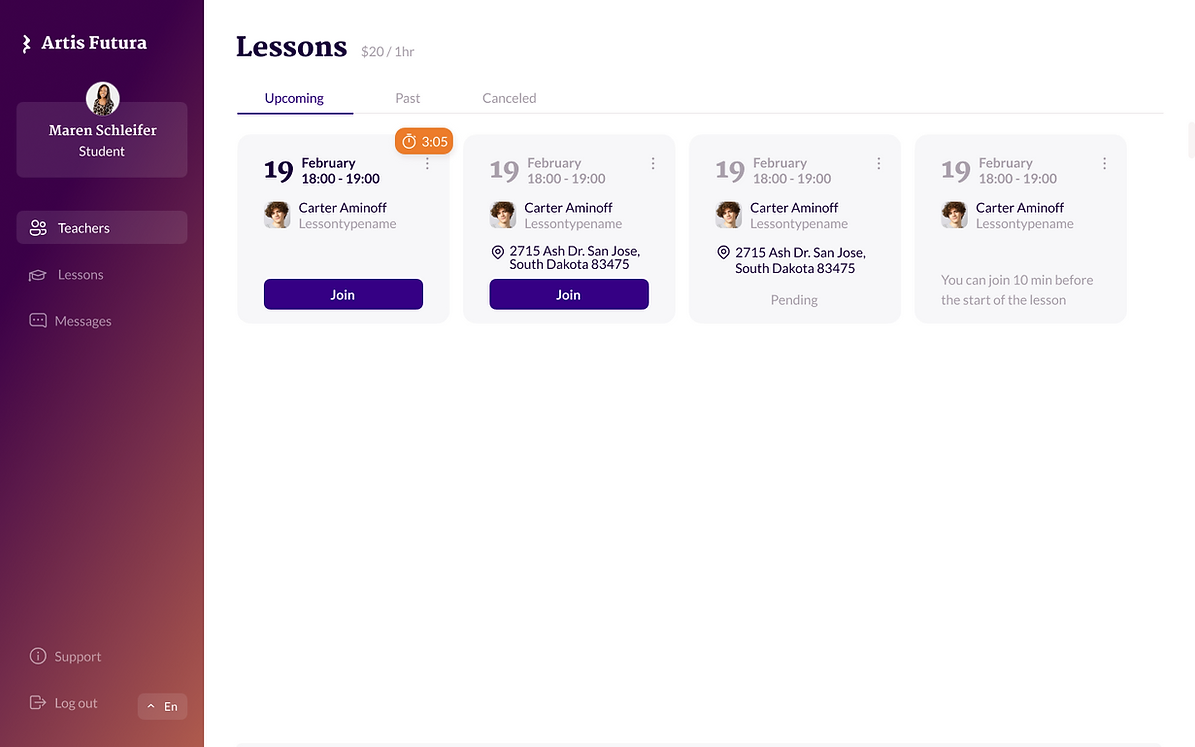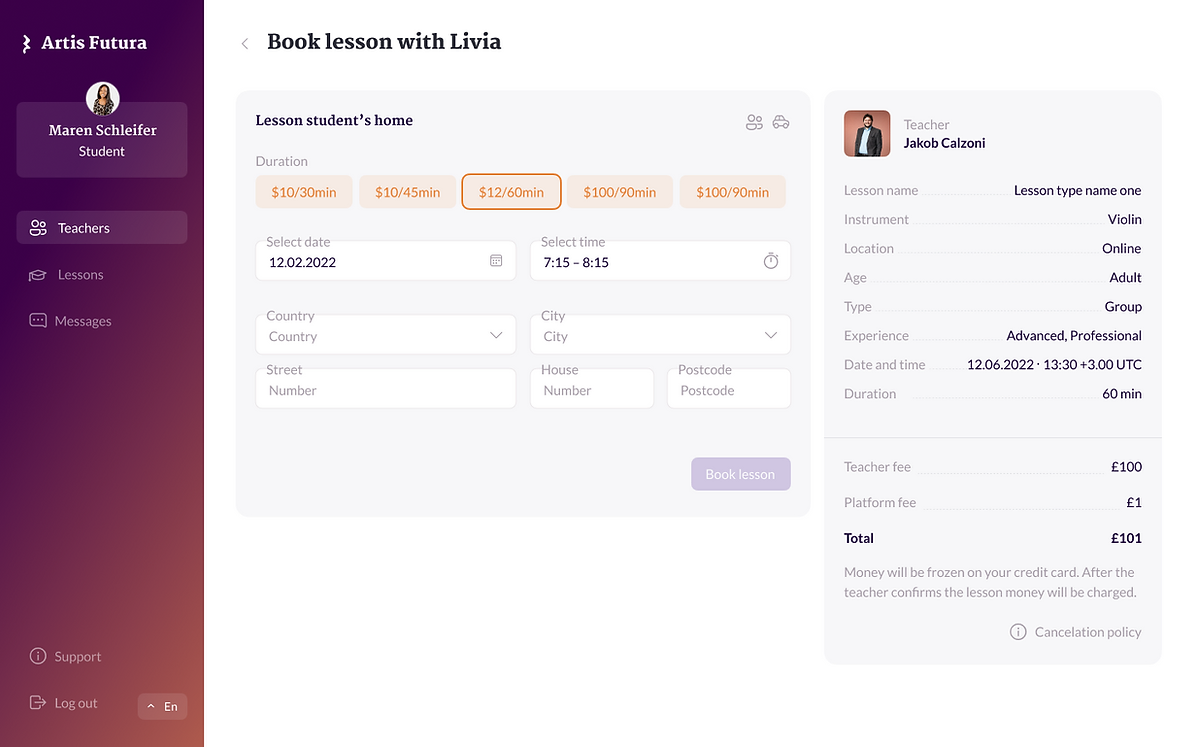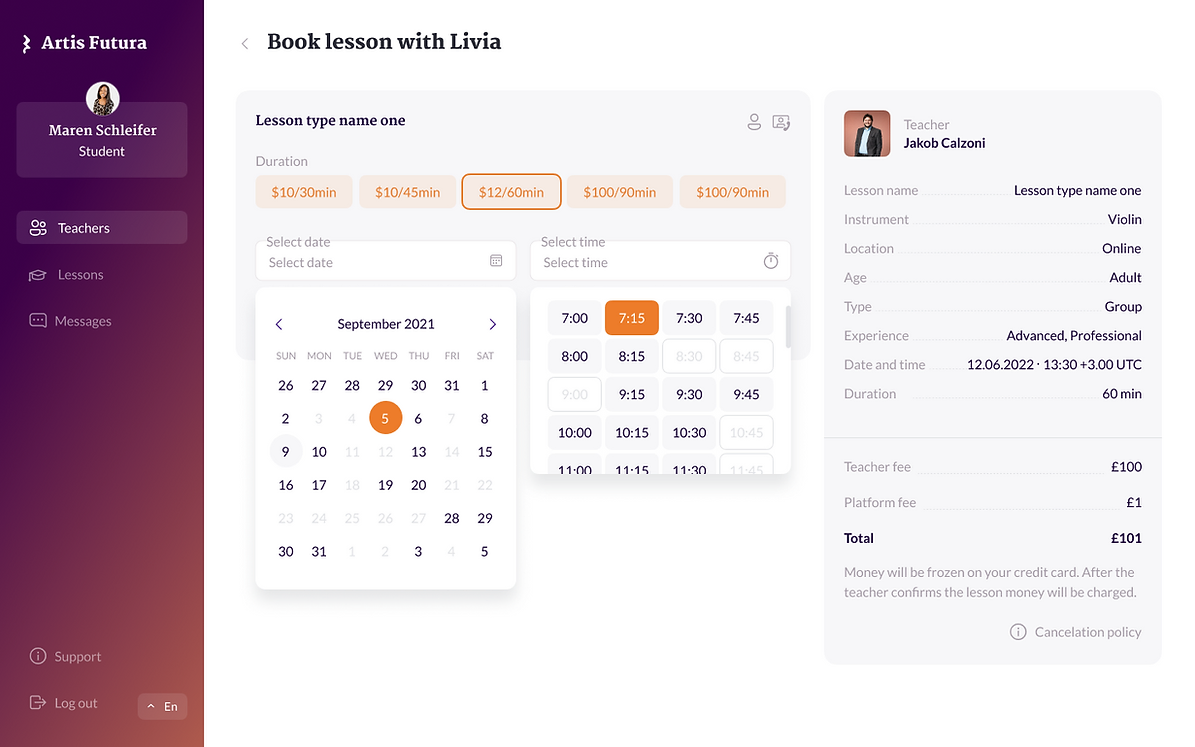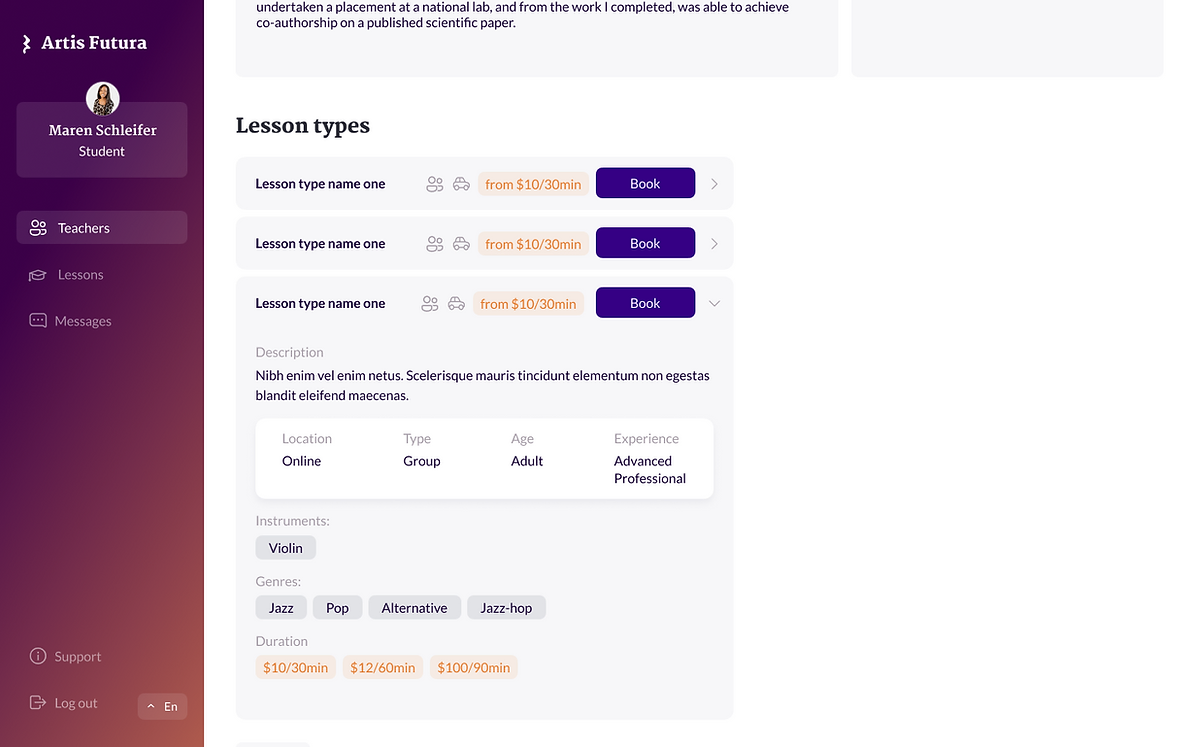 Teachers can choose to arrange payments directly with their students. However if you choose to use our integrated booking and payment system, there is a small commission of 2%.
Students pay their lessons directly to the teacher via the Stripe integration. This reduces the time it takes for the money to arrive into your accounts.
You will also benefit from the built in cancelation protection when a student cancels a lesson or doesn't show up.
We currently offer the option to accept payments in Euros, Dollars, British Pounds and Japanese Yen.
Our custom made video calling app prioritises sound quality and dynamics, improving significantly the quality of education you can provide.
A built in equaliser can help fine tuning this experience.
We have also included a chat application, file sharing and screen sharing for your convenience.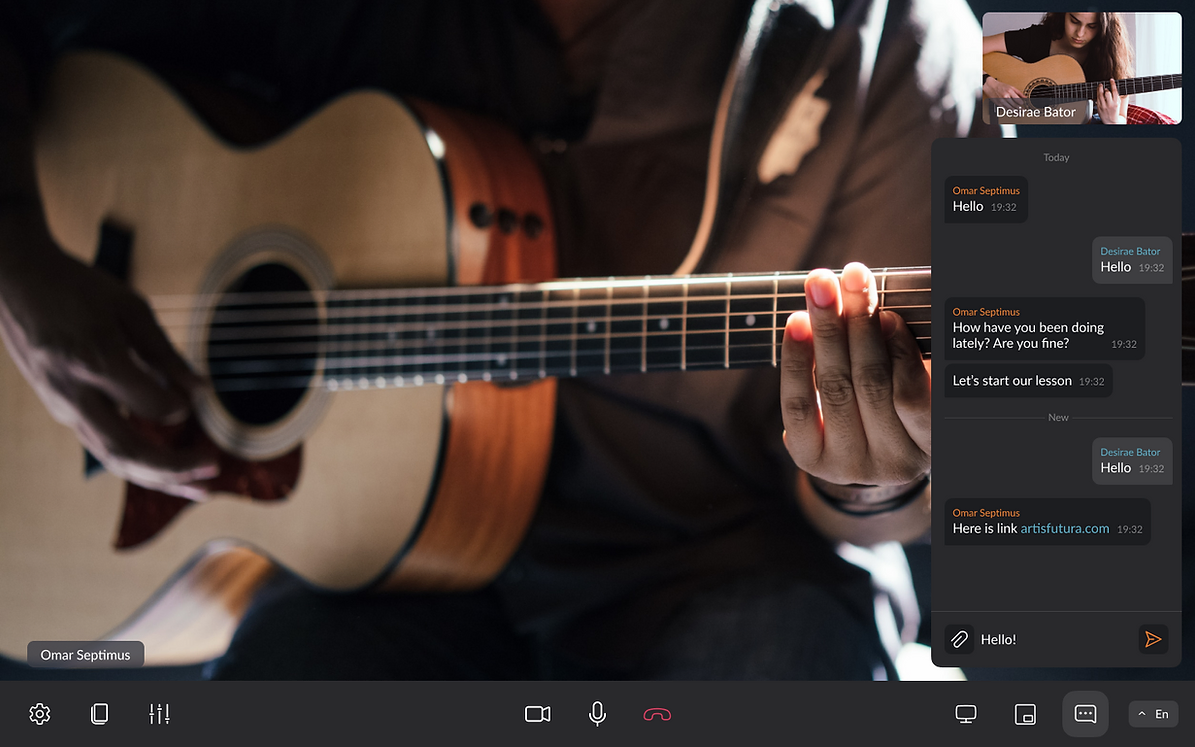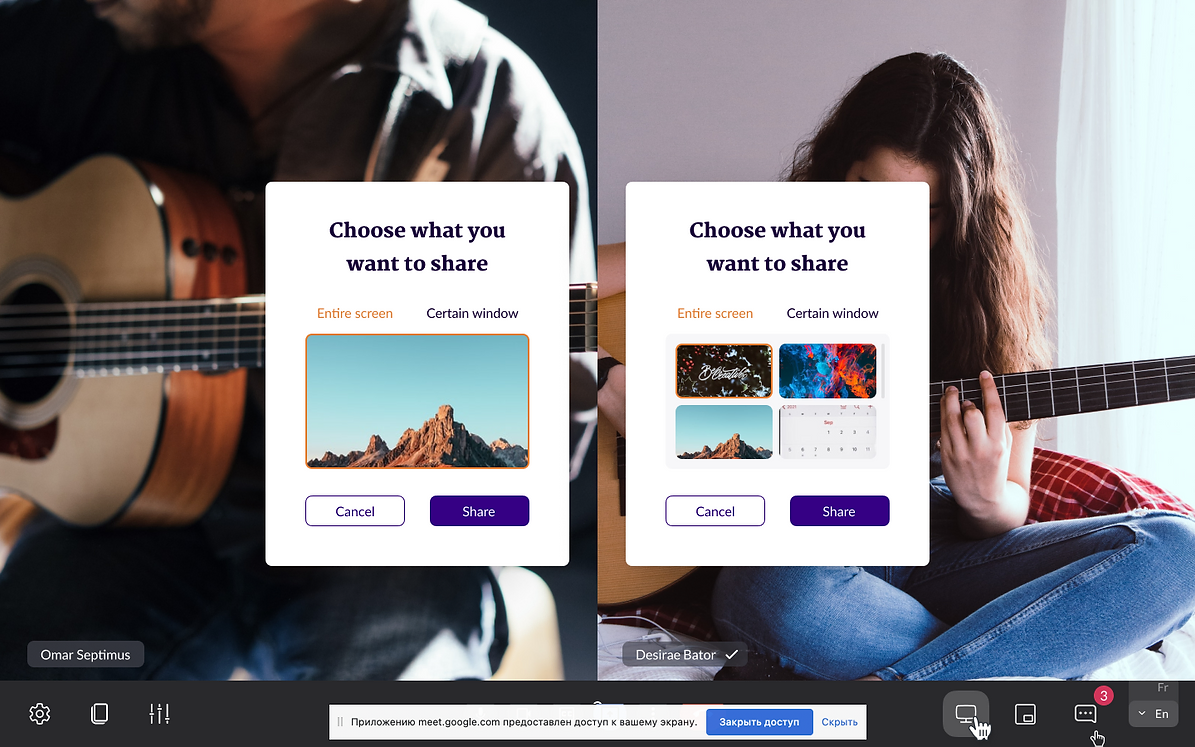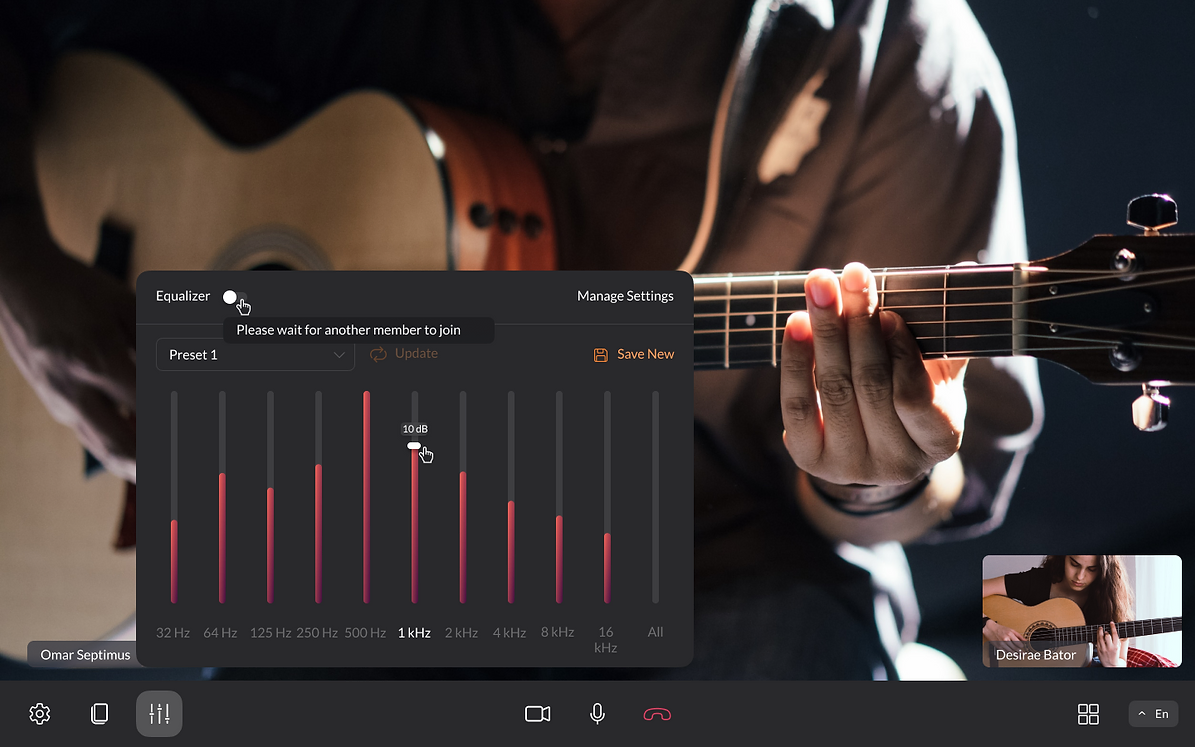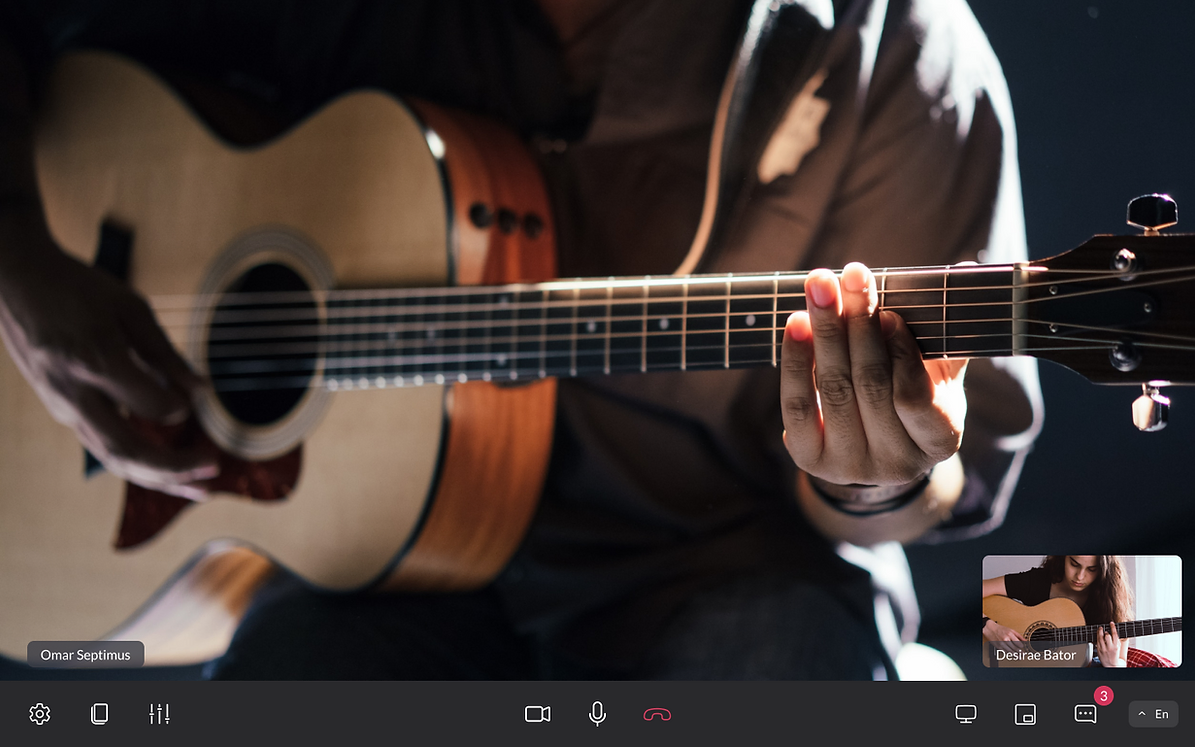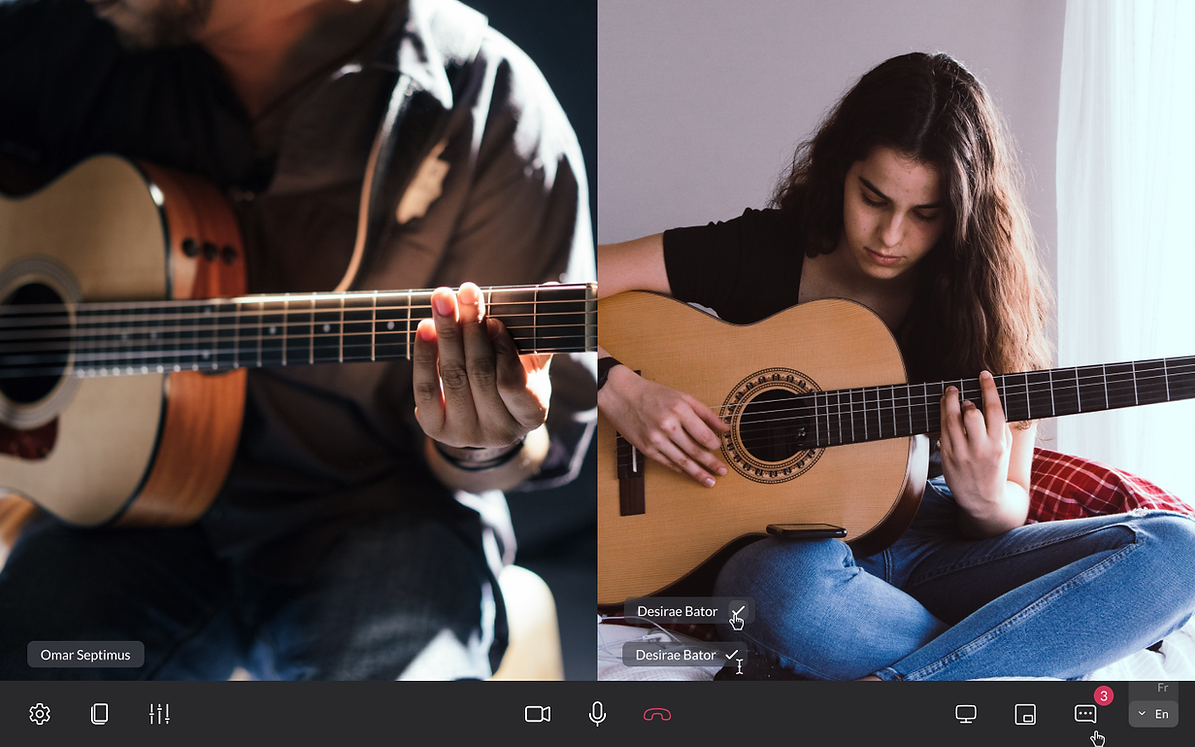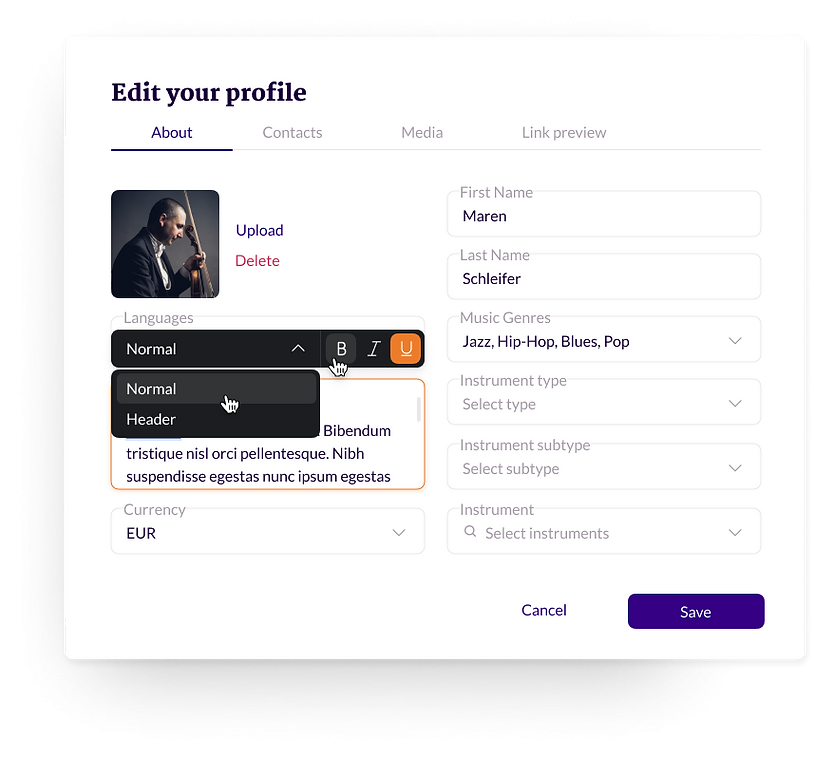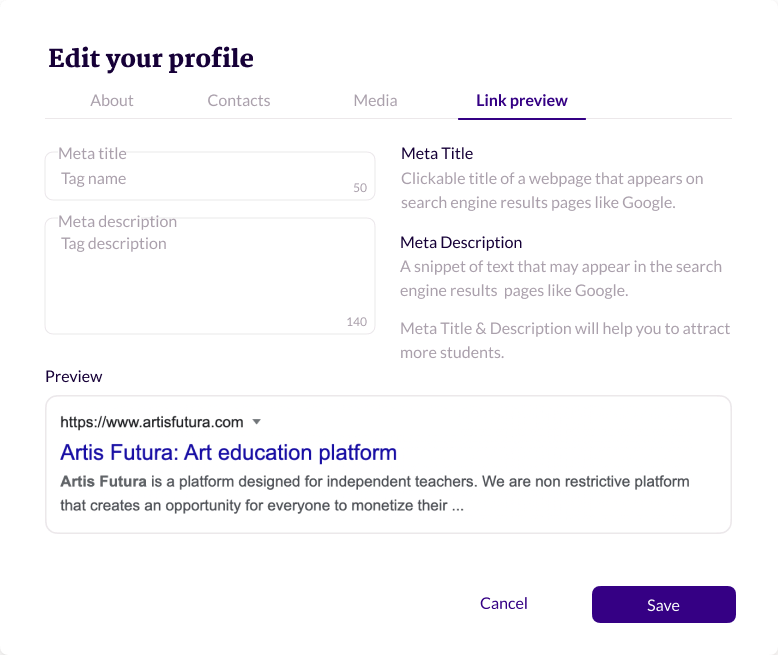 Increase your online visibility by regularly adding media to your profile and by posting incoming links on social media, blogs, personal website, etc.
A brief comparison of our free and Professional teacher profiles

Profile picture

Profile text and professional details

Direct messaging integration

Contact details

Social media links

Link to your personal website

Unlimited weblinks allowing you to use your profile as a free linktree alternative

Vimeo and Youtube video links

Spotify and Soundcloud links

Custom SEO to increase online visibility and conversion
Everything included in the Artist Profile
Plus:
Active & paid promotion of your profile
across social media platforms and search engines

Priority listing

Online calendar

Booking system for in-person and online classes

Create private (in person and online) and group lessons (in person only)

Direct payment between teacher and students through Stripe integration

Cancelation protection

Unlimited one-to-one Web RTC Video lessons

Use of Artis, our custom made Video Call app with HD sound quality, built-in equaliser, chat function, file sharing and screen sharing.
(Artis can be used like Zoom or Skype with your students without any charge.  Lessons do not have to be booked through Artis Futura! Just create a link for your student and share.)

Online rehearsal rooms

Ultra low commission of only 2% for on-platform transactions
(Artis Futura will never stop you from making different payment arrangements.  This market place is completely open and non restrictive)

Custom URL

Student reviews that can help you stand out and build trust with potential new students.
€20 + VAT per Month
or
€200 + VAT a year
To give you time to optimise your profile we offer all new teachers their first year at half price!
DISCOUNT CODE:
ArtisFutura


Find out how to build a music teacher profile that will help you convert potential students into paying customers:


Bring qualified teachers to Artis Futura and we will reward you every time they renew their subscription.
For Life!