Are you a music teacher looking for a platform that not only allows you to monetize your teaching studio but also provides you with the tools and support to thrive in the digital age? Look no further than Artis Futura, a revolutionary platform designed exclusively for music teachers. With its advanced features and commitment to fair trade, Artis Futura is changing the game for music education. In this article, we will explore the various features that Artis Futura offers its teachers and why joining this platform can be a game-changer for your career.
The Power of Your Profile: Making a Memorable First Impression
Your teacher profile is your gateway to potential students. It's crucial to make a strong first impression that showcases your expertise, qualifications, and teaching style. Artis Futura provides you with a user-friendly profile builder that allows you to customize your information and stand out from the crowd. Here's what you can include in your profile:
About Section: Share your qualifications, experience, influences, and teaching style. Let potential students get to know you as a teacher.
Media Links: Showcase your talents by adding video and audio links. Let your potential students experience your teaching style and musical abilities.
Lesson Creation: Fine-tune your lessons according to specific criteria such as instrument, language, location (in-person or online), target age, ability, and pricing. Create lessons that cater to your unique teaching approach and make it easy for students to find the right fit.
Payment Options: Artis Futura offers flexible payment options. You can choose to arrange payments directly with your students or use their integrated booking and payment system, which comes with a small commission of only 2%. The platform provides built-in cancellation protection, ensuring you receive fair compensation for your time and effort.
SEO Optimization: Artis Futura understands the importance of search engine visibility. By regularly adding media to your profile and sharing links on social media, blogs, and personal websites, you can increase your online visibility and attract more potential students.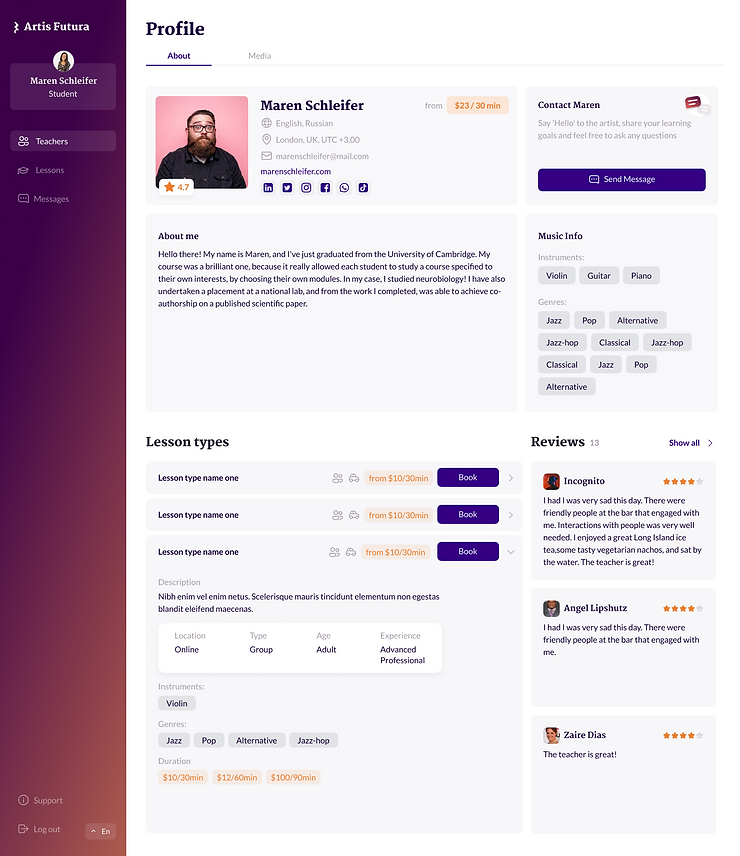 A preview of a premium music teacher profile on Artis Futura
Artis Futura: A Better Model for Music Teachers
One of the key differentiators of Artis Futura is its fair trade approach. Unlike other platforms that charge high commissions, Artis Futura offers a prepaid model with low commissions. Let's explore why this model benefits music teachers:
Avoiding Overcrowding: Artis Futura prioritizes active and committed teachers. By implementing a subscription-based model, the platform filters out abandoned profiles, ensuring that teachers who are serious about their craft have a better chance of connecting with potential students.
Discouraging Price Competition: The subscription model discourages teachers from undercutting each other on price. This fosters a healthy and competitive environment where teachers are valued for their expertise rather than their ability to offer the lowest rates.
Ownership of Students: With Artis Futura, you have ownership of your students. If you find a more convenient way to charge them for lessons outside of the platform, you have the freedom to do so. Artis Futura respects your autonomy as a teacher and supports your preferred payment arrangements.
Rewarding Success: Artis Futura's subscription model benefits dedicated and successful teachers. As you build a loyal student base and secure repeat bookings, the average cost per lesson drops significantly. Unlike commission-only models, where the platform profits from your success, Artis Futura invests your subscription payments into advertising and platform development to help you find more students and enhance your teaching experience and online visibility.
Unleashing the Power of Online Teaching with Artis Futura
In today's digital age, online teaching has become more important than ever. Artis Futura provides you with a custom-made video calling app specifically designed for music education. Here's how it empowers your online teaching:
Superior Sound Quality: Artis Futura understands that sound quality is paramount in music education. Their video calling app prioritizes audio transfer, doubling the bitrate and avoiding any filtering, allowing you to provide real-time constructive feedback on crucial elements like phrasing, articulation, and dynamics. With better sound, you can deliver a higher quality music education experience.
Built-in Equalizer: Artis Futura goes the extra mile by including a built-in equalizer in their video calling app. This feature allows you to fine-tune the balance of the sound you receive, ensuring optimal audio quality even if you or your students are using basic equipment like laptops with built-in speakers and microphones.
Additional Features: Artis Futura's video calling app also includes convenient features such as screen sharing, file sharing, and in-video chat. These tools enhance the online teaching experience, making it easier for you to connect with your students and provide a comprehensive music education.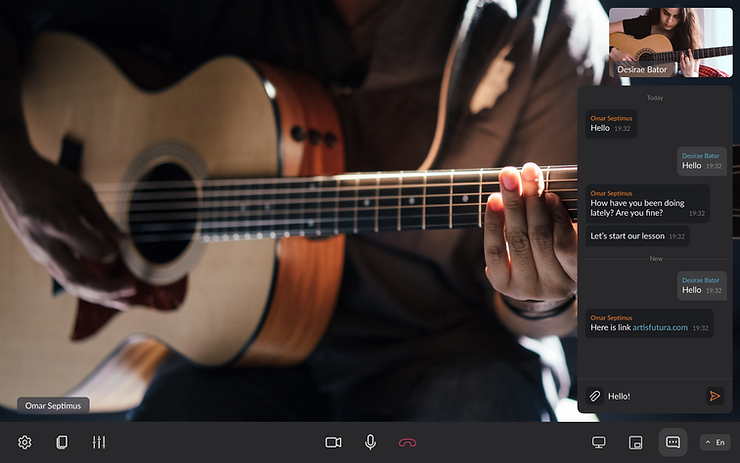 A preview of a premium music teacher profile on Artis Futura
Join Artis Futura: Your Path to Success
By joining Artis Futura, you gain access to a platform that not only empowers you as a music teacher but also supports your professional growth and success. Here are some additional reasons why you should choose Artis Futura:
Personalized Support: Artis Futura is committed to providing personalized support to its teachers. Their team is available to assist you with any questions or concerns, ensuring that you have a smooth and successful experience on the platform.
Community and Networking: Artis Futura fosters a vibrant community of music teachers. By joining the platform, you gain access to networking opportunities, collaboration possibilities, and the chance to learn from and connect with like-minded professionals.
Flexible Pricing: Artis Futura offers both free and professional teacher profiles. While the free profile provides essential features, upgrading to the professional profile for a nominal fee unlocks additional benefits such as active promotion, priority listing, online calendar, booking system, and more. Choose the profile that aligns with your goals and budget.
Student Reviews and Trust: Artis Futura allows your students to leave reviews on your profile, helping you build trust and credibility with potential new students. Positive reviews can set you apart from other teachers and attract more students to your classes.
Become an Ambassador: Artis Futura rewards you for bringing qualified teachers to the platform. As an ambassador, you receive ongoing rewards every time your referred teachers renew their subscriptions, creating a passive income stream for you.
Don't miss out on the opportunity to join Artis Futura and take your music teaching career to new heights. Create your music teacher profile today and unlock a world of possibilities in music education.
You can find more details on how to build a successful music teachers profile on Artis Futura here: https://artisfutura.com/teacher-info